J.W. Speaker Announces New Jeep LED Headlights, Off-Road Lights and Mobile App
Science Meets Design
Germantown, WI., June 11, 2019 – After 10 years of research and product development, J.W. Speaker Corporation introduces two new products and a first-of-its-kind mobile app for the off-road and Jeep markets: the EVO J3™ LED headlight, the Trail 6™ series LED off-road lights and the brand new J.W. Speaker J-Link™ mobile app. These new lights are the most technologically advanced LED lights ever to hit the Jeep and off-road aftermarket.
"We had a great response to the preliminary launch of these new products at the SEMA show and are happy to be bringing them to market now," said Tim Speaker, Co-President of J.W. Speaker. "These off-road lights give users the best and brightest lighting without compromising performance. Our exclusive designs utilize Bluetooth technology and give customers total control and customization."
The groundbreaking EVO J3 is a five-in-one LED high and low beam headlight, turn signal, daytime running light (DRL), and off-road light. Additional features include a patented asymmetrical design, DOT street-legality, plug-and-play installation and added power and control via the J-Link mobile app.
Instantly recognizable as an authentic J.W. Speaker product, the EVO J3 is the first Jeep headlight featuring SmartHeat® heated lens technology that melts snow and ice off the surface of the lens.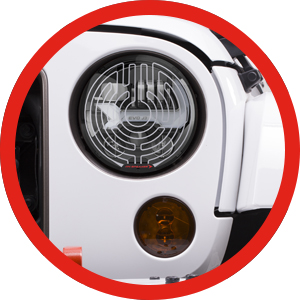 The compact Trail 6 is the premier off-road light for Jeeps, UTVs, ATVs, snowmobiles, and many other off-road applications. This new off-road light provides added safety and control to users with three different versions: The Trail 6 Pro with Bluetooth® connectivity, the Trail 6 Flash that senses deceleration and flashes as a warning to other drivers, and the Trail 6 Sport with class-leading light performance. When installed together in the Jeep Wrangler JK, the Trail 6 Pro with the EVO J3 headlights replace the stock turn signals and add extra off-road illumination.
EVO J3 and Trail 6 Pro users can connect to their lights from their mobile device using the new J-Link app developed by J.W. Speaker. In the app, lights are registered to a single owner and are customizable to the user's needs.

The J-Link app exclusively unlocks features in the EVO J3 and Trail 6 Pro, including an "Off-Road" and "Guide" mode. Best of all, J.W. Speaker plans to continue to add new features to the EVO J3 and Trail 6 lights via the mobile app.
To learn more about J.W. Speaker's current offerings, please visit their website at www.jwspeaker.com. For the most recent updates on J.W. Speaker and the new product launches, follow J.W. Speaker on Facebook, Instagram, and Twitter.
---
About J.W. Speaker
J.W. Speaker specializes in the design and manufacture of vehicle lighting systems for OEMs and aftermarket applications.
For more information, contact J.W. Speaker at 800.558.7288 or news@jwspeaker.com
ABOUT J.W. Speaker®
Founded in 1935 by John W. Speaker, J.W. Speaker Corporation is focused on developing innovative, high-performance lighting solutions for OEM and aftermarket customers around the world. J.W. Speaker specializes in LED and other emerging lighting technologies and proudly design, manufacture and assemble its products in Germantown, Wisconsin.
COMPANY VIDEO